<!PHP Block to display review !>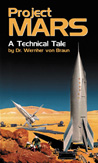 Project Mars: A Technical Tale by Wernher von Braun
Review by Ernest Lilley
Apogee Books Paperback ISBN/ITEM#: 0973820381
Date: 2006 List Price $12.95 Amazon US / Amazon UK / Show Official Info /



Space based telescopes gaze out into the heavens with new clarity, and among the wonders of the universe astronomers discover that Mars does indeed have canals, and they can only be the work of intelligent life. Percival Lowell is vindicated, and we decide to visit our neighbors to see what they're like. Hopefully to establish interplanetary peace, but having come up from barbarism the hard way, we're no fools. We'll take the marines along just in case.

The story itself is told in a multi-actor narrative style much like Arthur Clarke's works, but with less human drama and more lectures, often put forth as actual lectures. But then, Moby Dick contains a chapter on the taxonomy of whales, and it's still considered a classic. "Call me Ishmael," but I think there's a lot to be said for this style, out of date as it is. What you don't get is a villain, unless you want to count the Chinese politicians that vote against the project, but even they seem to be acting out of sincere belief that boldly going is a fool's errand.

The clarity of this vision, and how it translated into moon shots, if not (yet) a Mars expedition, is readily apparent...and since the intent of the book was to hang Von Braun's calculations on a story frame for display, the facts have as much relevance today as they did then. Some theory has been overtaken by practice, notably in the life sciences portions, like the effect of cosmic radiation on astronauts. Von Braun dismisses the dangers here as less than those involved in automotive transport, and he may have a point...but were he able to revisit this concern today I suspect he'd take it more seriously.

The ten ship expedition is multinational, though as far as I can tell it didn't include anyone from the newly pacified Far East, and there are no women aboard, consistent with the era. As a matter of fact, I think there was only one woman in the entire book, the wife of the expedition leader, whose support role will be familiar to anyone who has lived in a military household, and which role has not changed substantially over the decades...though now is shared by a smattering of men as well as women.

The most interesting feature of space exploration that differs in practice from the path laid out here is the author's use of inflatable space ships and stations, laid out on spidery metal frames. The thinness of these ships actually does speak to cosmic ray dangers, because much of the real threat comes from the secondary radiation caused when high energy particles pass through dense materials. I wonder that I haven't encountered this before in SF.

The story line takes you from conception to return to earth, and you'll be impressed to see the whole space program laid out. Reusable shuttles launched on boosters, complete with both Challenger and Columbia type disasters. Disposable landing craft for the Mars landing. More astronomy and ballistics than you can shake a space station at...and nearly enough story to keep you going.

The scientifically weakest portion of the book, though in many ways the most personally telling, is the encounter with the Martians. Like many aliens depicted in early SF by engineers turned author, they're idealized humans rather than monsters determined to take over our planets, women, or minds.

Current literary theory says this book is a failure, but theories come and go, and while Von Braun didn't set out to write a popular novel, I'm sad that this story, written in 1949, never made it to press. Had it done so, we might have all benefited by substantially better science in our interplanetary fiction. Even now, it's a fascinating overview of the state of the art of space exploration written almost a decade before Sputnik was launched into orbit.
---
advertising index / info
Our advertisers make SFRevu possible, and your consideration is appreciated.

<!- Google Adsense Skyscraper --> <!- End Google Adsense Skyscraper -->