<!PHP Block to display review !>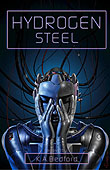 Hydrogen Steel by K.A. Bedford
Review by Lucy Schmeidler
Edge Science Fiction and Fantasy Publishing Paperback ISBN/ITEM#: 1894063201
Date: August, 2006 List Price $15.95 Amazon US / Amazon UK / Show Official Info /

Hydrogen Steel takes place in the same far future world as Bedford's previous novels, Orbital Burn and Eclipse, in which a typical person has extensive physical and mental enhancements. This story, which takes place some centuries after the earlier books, helps tie up some loose ends, which may increase its pleasure for readers already familiar with Bedford's work, but it reads just as well on its own.

The protagonist, Zette McGee, had been a police detective until unwanted dreams--or memories--made her suspect that she wasn't the person she'd always thought she was, but was instead a highly sophisticated disposable android, without any human rights. At that point she retired to a distant planet where nobody knew her, and where she made only one new friend, an elderly gentleman named Gideon Smith, who respects her privacy and has a wealth of secrets of his own, which he reveals on occasion when one of his strange abilities or areas of knowledge can help Zette.

Zette's retirement is interrupted when she gets a call for help from a fellow "disposable", who claims to have known her long ago, before they were activated and sent out into the world. She has no memory of him, but her own curiosity and the habits of a policewoman push her to investigate his case, even when he is killed before she can speak to him. The situation escalates, constantly increasing in scale, until Zette is hired by one superhuman intelligence to investigate another, and she learns many secrets, including explanations of the "loose ends" mentioned above.

The story is thus a private investigator's journey into levels of intrigue far beyond those normally encountered by a human--or android--and a discussion of various kinds of intelligent entities, with and without legal status.

Hydrogen Steel is a highly readable and entirely convincing book. The reader is drawn immediately into the reality of Zette's first person narration, and shares her experiences as they unfold.
---
Our Readers Respond
---
From: marie
Thank you for the revue of Hydrogen Steel I have read it and liked it very much. It is good to hear a professional revue on a book which i really enjoyed. Thank you Lucy and thank you SFrevu.
---
advertising index / info
Our advertisers make SFRevu possible, and your consideration is appreciated.

<!- Google Adsense Skyscraper --> <!- End Google Adsense Skyscraper -->