<!PHP Block to display review !>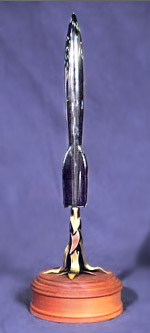 Hugo Nominations -- Some Suggestions by SFRevu Staff
Review by sfrevucrew
SFRevu.com List
Date: February 2008

Links: Sam Tomaino's picks /

It's that time of year again, time when we sit down and try to think about all the material we've read or seen in the previous year and wonder, "What of all that is worthy of an award?"

Well, to help you out we've asked all of our columnists and reviewers to give us their picks in the Hugo categories. So, take a look. If you'd like to add something we haven't got, let us know using our comment form. If you think we're way off base on a suggestion -- tell us why. Our short fiction reviewer, Sam Tomaino, has also put together an article on his picks.

Novel: Novella: Short Story:
"The Cambrist and Lord Iron: A Fairy Tale of Economics" by Daniel Abraham in Logorrhea: Good Words Make Good Stories
"Stilled Life" by Pat Cadigan (Inferno, ed. Ellen Datlow)
"Unique Chicken Goes in Reverse" by Andy Duncan (Eclipse One, ed. Jonathan Strahan)
"The Drowned Life" by Jeffrey Ford (Eclipse One)
"In the Forest of the Queen" by Gwyneth Jones (Eclipse One)
"An Apiary of White Bees" by Lee Thomas (Inferno)

Editor (short form):
Ellen Datlow, Coyote Road
John Klima, Electric Velocipede

Best Artist: Check out Mark Kelley's Cover Index at Locus.
Check out SFRevu's archives of book reviews and zines for covers (artists are listed in reviews when we can find that information).
---
Our Readers Respond
---
From: Aaron H.
How can Brasyl by Ian Mcdonald not be on a suggested list of Hugo nominations for this year?
[Editor's note: It's been added. Wonder how we missed that one.]
From: Kathryn Cramer:
"Unique Chicken Goes in Reverse" by Andy Duncan is a really cool story that I would have loved to include in one of our Year's Bests. But it isn't, in our opinion, either SF or fantasy.
---
advertising index / info
Our advertisers make SFRevu possible, and your consideration is appreciated.

<!- Google Adsense Skyscraper --> <!- End Google Adsense Skyscraper -->