<!PHP Block to display review !>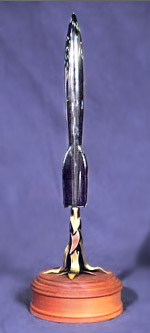 Hugo Nominations -- Some Suggestions for Shorter Works by Sam Tomaino
Review by Sam Tomaino
SFRevu.com
Date: February 2008

Links: The crew of SFRevu makes some picks /



It's February 2008 and this is the time of year a young (or old) fan's thoughts turn lightly to…Hugo Award nominations. So here are the novellas, novelettes and short stories that I thought were the best of 2007.

Let me once again caution that this is not an exhaustive list. I didn't read everything and this list comes pretty much from the magazines that I have read. In fact, the stories are all from The Magazine of Fantasy & Science Fiction (F&SF), Asimov's Science Fiction (ASM), Analog Science Fiction and Fact (ANA), Jim Baen's Universe (JBU) and Interzone (IZ). I'll be using the abbreviations indicated and all issues will have a 2007 date for the month indicated. One more thing: If my descriptions sound familiar, that's because most of them are taken from my reviews over the past year. So here we go!

Novellas

This year, just five novellas made my minimum rating for getting a Hugo Award nomination. However, one of them was better than the others, one of those stories that totally blew me away.

"Memorare" is one of the finest stories that Gene Wolfe has ever written and that's saying a lot. This is the best story I've read since Peter Beagle's "Two Hearts" and it's as good as that story. Wolfe introduces us to March Wildspring, a down-on-his-luck television producer, trying to make a success of a documentary about memorials that people have been erecting in space. They are quite elaborate and some are booby-trapped because some believe that if people die there, they will serve the dear departed in the afterlife. March, the woman he loves, March's ex-wife and her current abusive husband wind up on a very unusual memorial ship and the story told touched me deeply. F&SF – April

"Kiosk" by Bruce Sterling was a bizarre story, set in what I guess is a Russia of the future. Borislov owns a little kiosk and sells many odd items. When someone cleans him out, he buys an unusual Fabrikator that can make a black, indestructible copy of anything. This has a profound effect on his society. F&SF – January

"Recovering Apollo 8" by Kristine Kathryn Rusch got an Excellent from me. It takes place in an alternate Earth in which the Apollo 8 astronauts missed the moon and continued out into space to die. A man becomes obsessed to recover them and we get a great story about him. ASM – February

"The Helper and His Hero" by Matthew Hughes features his hero, Guth Bandar, explorer of the collective unconsciousness known as the noösphere. This is the second part of a serialization begun in the February issue and together they are almost novel length. Bandar winds up being Helper to a Hero named Baro Harkless in fighting an alien invasion though the noösphere. This is actually a retelling of Hughes' novel Black Brillion, but from Bandar's point of view. There is a little more to the story and this version is, to my mind, better. F&SF – March

Another Excellent story is "Dead Money" by Lucius Shepard. Jack Lamb finds himself involved with a resurrected man named Josey Pellerin and some gamblers in New Orleans. Something is different about Pellerin and, as Jack learns more, things get stranger. In the end, he learns more than he wants to. ASM – April/May

Novelettes

This year 11 novelettes made my list. Here they are:

First up is "Fool" by John Morressy. Gordon Van Gelder tells us that this is the last story he has in inventory but holds out hope that more may be found in Morressy's papers. This one is not a Kedrigern and Princess story but something very different. Niccolo is a deformed, ugly man who serves as a fool for a count. Told entirely though the "fool's" viewpoint, Morressy shows us that he can write a serious story. This one gets a Great from me and makes me miss the author even more. F&SF – February

Also excellent is "Dance of Shadows" by Fred Chappell. This is a wonderful fantasy about the adventures of "shadow thief" Astolfo and his apprentice, Falco. A nobleman is in possession of the shadow of a beautiful woman and commissions them to find the original. How they accomplish this makes for a great story. I want to see more with these characters! F&SF – March

Another Exceptional tale is a quiet one by K.D. Wentworth called "Kaleidoscope". The story starts when Ally Coelho, a woman in her 50s, rescues a lost dog. The next day her memories change and she is sure the dog was hit by a car and killed. This sort of thing happens more and more, with friends being childless or having a daughter. It's not just memories: The young girl exists or doesn't. The most important change is about a man she met that she likes in one version and doesn't in multiple others. She finds a way to deal with this in an enchanting story. F&SF – May

"Sweet Trap", is another Great Henghis Hapthorn tale from Matthew Hughes. This takes place after his recent novel Majestrum and was actually published with the special edition of that book. I did not get that limited edition so it's new to me, as it will be to most readers. Here, Henghis is hired to find a missing man named Chup Choweri. It turns out Choweri had disappeared while trying to buy a spaceship called the Gallivant and so had two other men. Henghis and his grinnet assistant apply their usual wit and intelligence to the problem. F&SF – June

"Cryptic Coloration" by Elizabeth Bear is also a fine story. Matthew is a college professor and a mage in the Prometheus Club. He and others battle supernatural beasties. He and Marion go after a cockatrice hybrid and he must enter the body of a black cockerel to fight it. The story involves three giddy co-eds and is one great read. JBU - June

Yet another is "Car 17" by P.E. Cunningham. It's the story of a heroic cop named Officer Will and his police car, Car 17. The story reads like great myth, telling us that Car 17 is more than just an automobile. The author makes the small-town setting and the people seem real. It's one of those perfect little stories that come around very rarely. F&SF – July

Also great is "Quaestiones Super Caelo Et Mundo" by Michael F. Flynn. The story relates in theme to his Hugo-nominated novel Eifelheim but takes place in a different medieval world. This is alternate history that relates what might have happened if just one scientific principle had been discovered a bit earlier. It's a classic Analog story with a lot of scientific jargon but set in medieval times. ANA – July/August

In "The Merchant and the Alchemist's Gate", Ted Chiang gives us an utterly delightful tale set (in part) in ancient Baghdad. A merchant finds an alchemist who has a portal through time. From Baghdad, he can travel 20 years into the future and from Cairo, he can travel 20 years into the past or future. He is told three tales of people who had used the portal in Cairo. What the merchant decides to do concludes all these tales in a wonderful way. F&SF – September

Albert Cowdrey is a resident of New Orleans who had to evacuate when Hurricane Katina struck. He has set many of his stories in the Crescent City and now, in "The Recreation Room", he finally deals with the worst disaster in modern New Orleans history. Jim Guest is returning to his ruined house, five weeks after Katrina. Years before, a woman had made a grim forecast about his attic. What will he find when he gets there? F&SF – October/November

We are told that Swanwick's "Urdumheim" is "a creation myth told by the inhabitants" of his forthcoming novel, The Dragons of Babel, but only available here. In a story that echoes the biblical Book of Exodus in several ways, a people are led out of bondage by their king, Nimrod, but they have to face great dangers until they are truly free. Based on this story, I will be looking forward to the novel. F&SF – October/November

Last but definitely not least is Lisa Goldstein's "Dark Rooms". This is the kind of story only Goldstein could write. It begins in 1896 and continues through the 20th century and tells us about the early days of the film industry and its great pioneer, Georges Melies. A young man meets Melies and learns much from him, but he misuses this gift. Goldstein gives us a lyrical fantasy of an earlier time. ASM – October/November

Short Stories

There are just five short stories that made my list. Here they are:

"Empty Chairs" is by G.D. Leeming. It's set in a future China, part of a world in which machines in space form a cloud that will kill anything that remotely threatens it. Chen is a policeman looking for a fugitive who has fled to the desert wastes. He comes across an old weatherman who want to make rain but must risk his life to do it. The story ends on a hopeful note that things are changing for the better. The story got an Excellent from me. IZ – February

Another Excellent story is "Magic with Thirteen-Year-Old Boys" by Robert Reed. Ted tells a woman he has made love to a story when she asks if he believes in magic. When he was a kid, he and his friends found some old pornographic pictures of a man making love to women over a number of years. They finally encounter him and he tells them his secret of a special skin and soup. F&SF – March

Mike Resnick gives us another tale worthy of a Hugo. In "Distant Replay", an old man sees a young woman who is the image of his deceased wife. He strikes up a friendship with her and is amazed how much like his wife she is. He eventually finds out why this has happened and the end of the story will touch your heart. ASM – April/May

A story that got an Excellent from me was "Tideline" by Elizabeth Bear. In the introduction to the story, we are told that Bear shares a birthday with Bilbo and Frodo Baggins. If that's the case, she shares a birthday with me, too, but that did not prejudice my review. "Tideline" is the story of an intelligent war machine named Chalcedony. Chalcedony's platoon has been wiped out and "she" is slowly running out of energy, dying. She meets a boy named Belvedere and they help each other. Chalcedony tells the boy stories, true and fictional, and changes his life. This is a poignant, beautiful tale. ASM - June

One more Excellent story is "Knowledge" by Grace Dugan. Janine, a young college student, starts seeing numbers appear over people's heads one day. They vary but many are over 20,000 and all are taken to three decimal places. As she watches people, she sees the numbers reduce by one-thousandth. She times this as happening every 86 seconds. She wonders what happens when someone's number becomes zero. She soon finds out that they die. This causes her to change the way she lives in a wonderful story. IZ – Jul-Aug

So that's it! For those of you keeping track, that's 12 stories from Fantasy & Science Fiction, five stories from Asimov's, two stories from Interzone and one story each from Analog and Jim Baen's Universe.
---