<!PHP Block to display review !>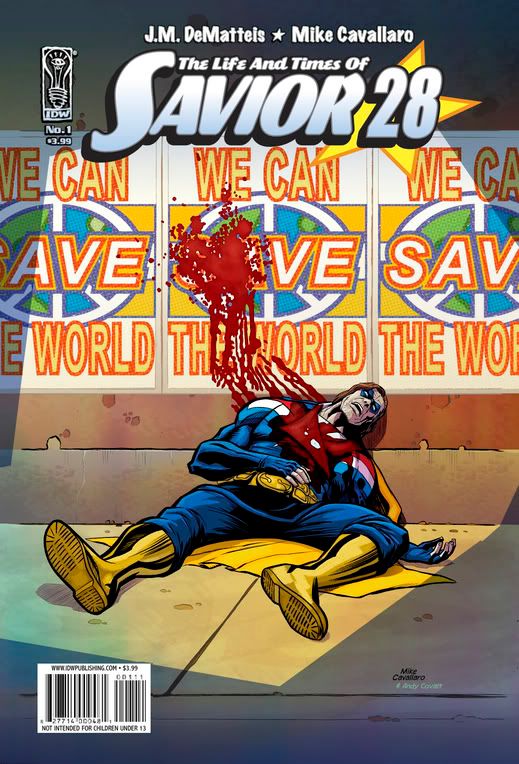 The Life and Times of Savior #28 by J. M. DeMatteis
Cover Artist: Mike Cavallaro
Review by Drew Bittner
IDW
Date: 28 February 2009

Links: Interview: J.M. DeMatteis / Show Official Info /

Narrated by former sidekick ("The Daring Disciple") Dennis McNulty, The Life and Times of Savior 28 is a meditation on superheroics, violence, and self-discovery by author J.M. DeMatteis and artist Mike Cavallero.

The titular hero, Savior 28, has been in the game for a very long time. Nearly seven decades of adventure have made him world-famous, mostly for his battles with the monstrous Savior 13 (the only other subject to survive the process that gave them both superpowers), but what does it mean? His life is nothing more than a suitcase in an empty room, his career nothing but one meaningless slugfest after another. In all those years, he hasn't made the world a better or safer place-- and he's finally started to realize it.

Problem is, there are some who like Savior 28 just the way he was, and they aren't shy about making their desires known.

As narrated by McNulty, Savior 28 is like something from a dark version of comics' Silver Age-- an era where superheroes solved problems neatly with their fists but never had to work through the consequences. Savior 28 doesn't get off the hook that easily, though, as McNulty dissects the hero's path to where he is when the book opens. McNulty is not especially judgmental regarding his former partner, but he doesn't shy away from acknowledging how Savior 28 hasn't truly grown with the times; he's the same guy he was 70 years ago. But now he wants to try something new.

Where matters end in the first issue will surely surprise a number of readers, but it's the kickoff to what promises to be a fascinating journey, as well as a sophisticated take on what superheroes are really all about--from a guy who's a master at writing them. DeMatteis delivers a powerhouse first issue, constructing the world of Savior 28 in short, precise strokes, with tremendous support from Cavallero, whose style is well-matched to the generation-spanning story.

Published by IDW, the series debuts later this year. Be on the lookout, as this could become a surprise hit.

Recommended.
---
advertising index / info
Our advertisers make SFRevu possible, and your consideration is appreciated.

<!- Google Adsense Skyscraper --> <!- End Google Adsense Skyscraper -->